In 2011, The Junior League of Kalamazoo hosted our first Touch-A-Truck event in May at the Kalamazoo County Fairgrounds and Expo Center. Sense then we've raised more than $120,000 in the previous 8 years to advance the mission of The Junior League of Kalamazoo. We are committed to developing the potential of women, improving the community, and promoting voluntarism.
On average, we provide more than 1,000 volunteer hours per year (over 300 are direct service hours). In 2020, we will begin planning for our next large scale community project and granting back $40,000 in celebration of our 40th anniversary. None of this would be possible without our community's support.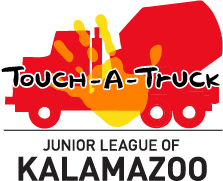 9th Annual Touch-A-Truck
Saturday, September 19th, 2020
This year's event was postponed due to COVID-19 to adhere to the Stay Home Stay Safe Order, and will now be held Virtually via Facebook as large scale events/gatherings are still not permitted. 
Join us LIVE via Facebook to see some of your favorite vehicles, share your favorite Touch-A-Truck memories & to thank the generous sponsors who continue to support the mission and work of JLK.
Touch-A-Truck is a fun event for the whole family where kids, young and old, can learn about an assortment of vehicles including police cars, fire trucks, construction equipment, race cars, buses and many other unique items from those who protect, build and serve in our community!
We can't wait to see you on Facebook on Saturday, September 19, 2020 and we look forward to our next in-person event, the 10th Annual Touch-A-Truck, scheduled for Saturday, May 8, 2021.
Many thanks to ALL of our GENEROUS SUPPORTERS of the 2019 Touch-A-Truck!
Would you like to help support this event?  We would be delighted to hear from you!  Please submit inquires/sponsorship commitments via email at [email protected] or complete a quick online survey by clicking on one of the links below:
The Junior League of Kalamazoo relies on the support of our community to make a lasting impact on the lives of people in Kalamazoo through effective projects and programs. For questions or more information please email [email protected].